As some of you may know from
previous posts
I have a strong interest in the use of cloud computing technologies in education. In particular
Microsoft Office 365
or
Google Apps for Education
. So it was with much interest that I found myself this afternoon observing some online real-time collaboration between pupils from two primary schools from Newport using Google Apps.
Mount Pleasant Primary School
have been using Google Apps for some time at the school, creating an excellent literacy/numeracy framework
pupil tracker for teachers
using Google Sheets and a utilising Google Sites for
cluster transition work
. They've also previously done some online work with their students, where I was invited to observe and interact remotely on the work pupils were carrying out, from the comfort of my office!
Glan Usk Primary School
have recent
'gone Google'
, signing themselves up to Google Apps for Education, with I believe the intention of using the various tools to support organisation and management across the school and obviously for its use in supporting pupils' learning.
Both schools organised the collaboration between themselves and I was invited this afternoon to observe online what was happening. Mount Pleasant had 31 Year 5 pupils, along with 1 pupil who was working from home! Glan Usk had 30+ Year 6 pupils involved. The pupils worked together on a World Cup topic, using pre-prepared Google Slides. 16 groups were organised and from what I could 'observe' pairs of children from each school were in each group. I've created a short video which you can view below which may hopefully give you some idea and a feel of what was going on.
As far as I could tell everything seemed to work seamlessly, with no technical issues at all. I'll speak to my colleagues in both schools to find out more about how they felt about the learning and teaching aspects of the collaborative process. Initial feedback from them has been very positive.
"Amazing session. Must do it again some time." - Mount Pleasant
#greatexcitement #greatlearning - Glan Usk Primary School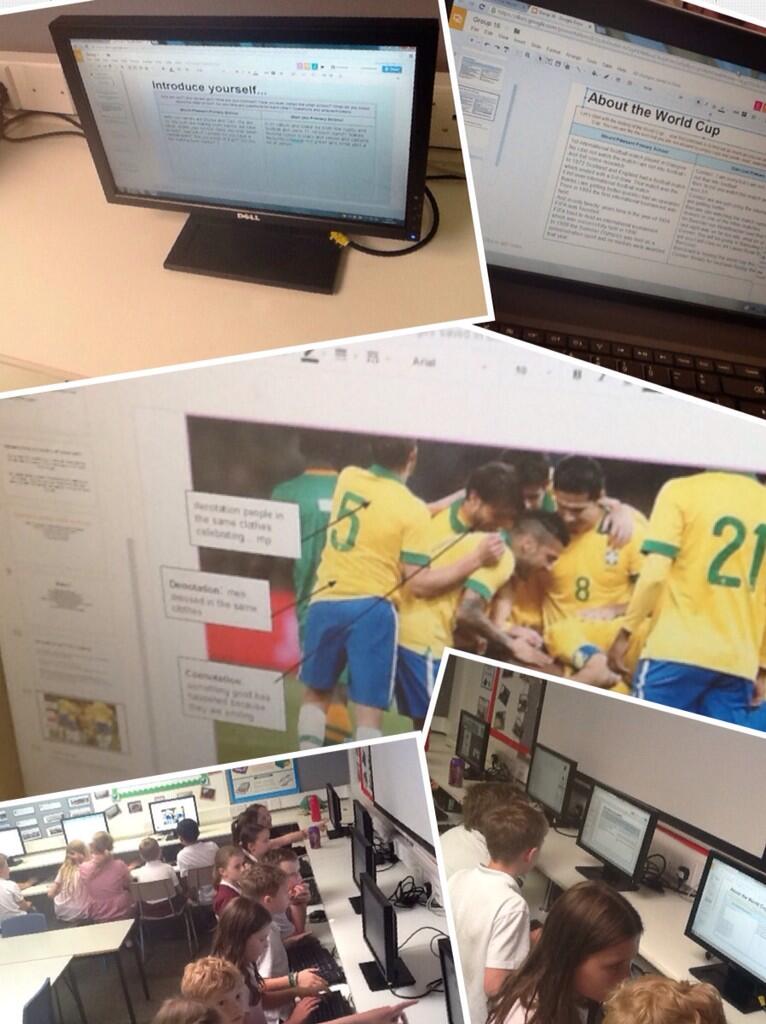 Mount Pleasant pupils at work on the project this afternoon
Glan Usk Primary School pupils working on the project this afternoon